Advertising & Sponsorship
BioTechniques' combination of publishing platforms, editorial excellence, and global reach creates a unique opportunity for advertisers to target life scientists where their products and services are most needed and where purchase decisions are most often made: at the lab bench.

---
Upcoming Projects
---
Virtual Symposium

This November, BioTechniques is hosting a free 2-day online educational symposium, aimed at delivering key updates on new techniques in personalized medicine for the life science research community. This event will provide an overview of the latest technical advances in this field and explore how they are being harnessed to translate research from the bench to the bedside.   
The event will focus around the following tracks: 
Sequencing

Cell Biology

 

 

Translational studies (e.g., diagnostics, tissue culture, immunology)

 

New Technology

.



If you are looking for an economical way to effectively promote your company to the life science community the sponsorship opportunities at BioTechniques Virtual Symposium are just what you need. These opportunities are on a first-come, first-served basis.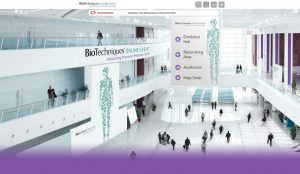 To get involved and find out more please contact Director of Business Development at [email protected] directly.
---
2020 Editorial Calendar and Marketing Planner

Every year, we produce a media kit to help keep advertisers like you informed on the abundance of advertising opportunities BioTechniques has to offer. While you are looking to plan this year's marketing budget, we wanted to make you aware of the deals that will work best for you. Take a moment to view our Editorial Calendar and Marketing Planner to learn more.
Our open access model, detailed demographic data, and flexible targeting options ensure your advertising reaches the most desirable audience at the most cost-effective price. 85% of our readers use BioTechniques to learn about the latest experimental methods and technologies.
Some of our Advertising Options include:
BioTechniques Journal – Print and Digital Editions
Banner Ads
List Rentals 
Webinars
Daily, Weekly & Tech-specific Newsletters
A Small sample of Editorial Topics for 2020:
We cover a wide range of topics that are guaranteed to reach your target audience and get them thinking about your products.
3D cell culture: genetic engineering tools to build organoids
Sequencing: method developments to address the error rate
CRISPR: a diagnostic and therapeutic tool
What is next for microbiome research?
Our peer-reviewed scientific articles are the heart of BioTechniques and the reason life scientists turn to us when seeking methods papers with practical applications to advance their research.
Contact Director of Business Development at [email protected] for further details.
---
Spotlights

Show your thought leadership alongside leading speciality experts and gain high-quality leads. All Spotlight content is housed on a dedicated channel and guided by our advisory panel of  experts, and includes:
Your experts alongside industry-leading specialists in a live panel discussion
Mini-webinar (30 minutes pre-recorded)
A survey to identify common dilemmas faced by our audience
Infographics based on survey results that you can use for your own marketing campaigns
Themed eNewsletters, including your news, products and features alongside highly valued editorial content
Exclusive commentaries and interviews from experts – increasing their profile as well as showcasing your products and solutions in an interesting format
Company logo on all promotional material
Full contact details of all opt-in registrants and full analytics reports on your placements
Spotlights include: Microbiome, 3D Cell Culture, CRISPR & Sequencing
Contact Director of Business Development at [email protected] for further details.
---
Expert Interviews

BioTechniques offers a fully comprehensive and flexible content and marketing solution designed to help you achieve your business goals in a professional and meaningful way, aiming to educate and inform the wider life science community.
Showcase your specialists' skills and thought-leadership with an expert interview
Great way to introduce a new product
Popular and concise way to stand out in the life science field
Available as text, audio or video
Filming at: ASHG, SfN, SLAS, AACR, ASM Microbe, ASMS, ACS Fall
Contact Director of Business Development at [email protected] for pricing.
---
Reach the users you need most through detailed demographic selects and flexible targeting
---
Overview
• Focus: Peer-reviewed Life Science Methods
• Target: Bench Scientists
• Launched: 1983
• Frequency: Monthly
• 80,037 Total Qualified Circulation
– 74,035 Print
– 6002 Digital
• 135,841 Avg. Monthly Unique Web Visitors
• 216,772 Avg. Monthly Page Impressions
• 1.659 Impact Factor
Global Audience
• The largest BPA-audited circulation within life sciences
• 100% requested
• Distributed to over 100 countries
Sponsorship Opportunities include:
 Print

Print adverts
Cover tips
Inserts and Outserts
Application notes
Online

Banner adverts
Webinars
List rentals
Product listings
Spotlights
Virtual symposia
In Focus
Video
Custom eBooks
Expert interviews
Newsletter and Alerts

Daily
Weekly
Tech-specific
Custom