The history of your ancestors is hidden in your DNA, but can direct-to-consumer genetic tests really help you uncover it? If so, is it worth it?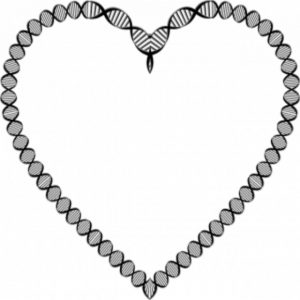 On Valentine's Day, it might be tempting to give more than just a box of chocolates—maybe instead a box that has the potential to reveal your significant other's genetic past. Gifts of this kind have been popular recently. An estimated 1.5 million AncestryDNA testing kits were sold between Black Friday and Cyber Monday last year, while the discounted 23andMe health kit was an Amazon best seller. But submitting samples to any of the nearly three dozen existing direct to consumer genetic testing companies could yield different results. How do these tests work? What can they really reveal about ancestry? And are there privacy concerns?
These tests don't look at entire genomes, but rather at small sets of DNA variants that differ from person to person. The proportion of identified variants in a sample can then be compared to reference panels of variants from different populations. Most companies use the Human Genome Diversity Project, HapMap, and the 1000 Genomes project datasets, which are publicly available resources. However, some companies also use additional datasets.
According to the 23andMe website, the company uses an additional 10,418 reference genomes from consenting customers who report having four grandparents all born in the same non-colonial country. AncestryDNA uses their database of over six million people, the largest consumer dataset in the world.
Using differing datasets is one reason companies might report different results. But another possibility is that each company uses slightly different proprietary methods, settings, and algorithms to analyze customer data.
Where Did I Come From?
It is undeniable that people have a fascination with the question, "Where did I come from?"
However, according to Mark Jobling, a geneticist at the University of Leichester who has written and spoken on the topic of ancestry testing (1), what people really should be asking is, "When do I come from?"
For the most part, people know where they were born and where they've spent their lives—that's where they are from. But their parents may come from other places. Go back ten generations and their ancestors could be from lots of different places. "So, in thinking about ancestry, we have to decide which time slice of our genealogy we're interested in," said Jobling.
If an ancestry kit indicates that someone is 5% Chinese, what does that actually mean? Does it mean there was one ancestor, five generations ago? Or does it indicate several ancient ancestors whose genetic influence has declined over the passing generations?
To answer this question, some companies consider not just genetic variants, but the length of DNA segments that are shared among various ethnic groups. A person inherits different segments of DNA from their ancestors, but these segments are broken up over time through the process of recombination. The more time that passes since the segment of DNA was inherited, the shorter the segment becomes. Therefore, if a person has a long stretch of DNA that is shared with people of East Asian ancestry, then the contributing ancestor is likely more recent.
However, race and ethnicity are social rather than scientific constructs (2). Furthermore, how populations are defined often depends on cultural parameters. "An archeologist or historian would have a completely different idea of what the word 'population' means compared to a geneticist," said Jobling.
In scientific studies, populations are sometimes defined based on skin color and other times on religion, such as the numerous genetic studies conducted in Jewish populations. Those kinds of labels are very heterogeneous and a person can belong to both one population and another. "I think there is a lot of cultural baggage in how we define a population and how we think of populations in science and outside science. It's not an objective classification," remarked Jobling.
Additionally, many reference datasets are constructed based on modern human populations. Jobling recommends marrying ancient data with ancestry testing because there have been several surprising discoveries from ancient DNA samples that did not match traditional ideas of migration or ethnicity.
However, some companies find recent data to be more useful. "Looking more at your recent ancestry is a lot more actionable for our customers to learn more about their family history," remarked Melissa Garrett, cooperate communications manager at Ancestry.
All in the Family
For some people, ancestry testing isn't just a fun experience, but rather a genuine effort to discover familial ties. In some cases people have identified biological parents after adoption, and in other cases, they have even found unknown siblings.
"Generally, we get amazing feedback from our customers," said Kristin Rand a genetic epidemiologist and R&D scientist with the DNA research team at AncestryDNA. "But I can tell you something that I found personally in my life that's been absolutely amazing for us in my family."
Rand took the DNA test when she first joined Ancestry and gave two other tests to her parents as gifts. Her father's mother had been adopted, and the family had often joked that her father's family was very small. Through the test, they identified an aunt, a first cousin, and built out the entire side of her father's family tree to discover that his family was even bigger than her mother's. "It's been really rewarding to be able to figure out. We've never known anything about my dad past his mom, and now we know an entire side of the family tree, so it's really, really neat," said Rand.
Such connections are made for people who are alive today and who have taken the same test, but others claim connections to famous people in the past after receiving their test results. How is it possible to find connections to people like George Washington or Thomas Jefferson without access to their DNA?
"It's not genetic data from George Washington, but we can utilize some of the genetic patterns that we see in the DNA test takers' relationships to each other. So it's using some of the genetic data in the test takers as well as information in family trees to trace back who is related," said Rand. In addition to the genetic test, Ancestry also utilizes genealogical information including 10 billion historical records and 90 million family trees that are investigated by professional genealogists who do heavy detective work. "Our DNA test is an autosomal test and then tracing relationships to George Washington is through the family trees," said Rand.
Another method of deducing such connections is through single lineage tests like Y-chromosome tests or mitochondrial DNA tests that rely on haplogroups, segments of DNA that are inherited together from a single parent and are shared in a genetic population. Although scientists don't have access to Thomas Jefferson's autosomal DNA, they do have access to his Y-chromosome DNA. "Thomas Jefferson's Y-chromosome was deduced by looking at the male line descendants of his paternal uncle," said Jobling. So, it is possible for someone to confirm that they have the same Y-chromosome haplogroup as Jefferson.
Although interesting connections can be made, Jobling cautions that ancestry results, "need to be taken with a serious pinch of salt." He recommends approaching ancestry testing with a specific hypothesis. For example, if there is a family story about being related to a famous person, or about being from a particular region in which someone still lives in that region today, then those sorts of questions can actually be tested.
"From people I know and from talking with the public, the general feeling of having gotten something done is mild disappointment," said Jobling who hasn't actually taken a home ancestry test himself; he doesn't think he'll find anything interesting. There is a kind of ascertainment bias, explained Jobling. People want to know something really weird and unexpected and what they might get back instead is something vague or already known.
"I see it as a novelty," said Andrew Hillhouse, associate director of the Texas A&M Institute for Genome Sciences and Society, who took both the 23andMe and AncestryDNA tests. "I knew a good portion of my family history both geographic and health related without the genetic test," he continued.
While Hillhouse has no desire to connect with distant cousins, he noted that the tests may have potential use in the future as new trait/disease associations are identified. Many direct to consumer genetic testing companies are doing more than just ancestry testing, many companies are also participating in scientific research using customer test results.
Read the Privacy Policy
23andMe recently co-authored a paper about earlobe attachment (3), and AncestryDNA published a paper on network analysis. By comparing everyone in their database to everyone else in the database, they identified genetic clusters that helped narrow down specific ancestral regions in the marker-based ethnicity estimate. Thus, instead of just reporting Irish ancestry, they can now also report which specific regions in Ireland a customer comes from (4).
"Having a database of over 6 million people, I can't even tell you how exciting that is for the development of scientific research. Really being able to sit here every day and be so excited about how we can incorporate this data to both further science and come up with something amazing for the consumer—I feel so lucky," said Rand.
The extent to which customers are aware of and consent to scientific research varies from company to company. A recent study published in Genetics in Medicine compared the privacy policies of 30 different direct-to-consumer genetic testing companies against international guidelines for confidentiality, privacy, and secondary use of genetic samples and data (5).
"I know a lot of friends who have bought these kinds of services and every time they do, I tell them to read the privacy policy," said Linnea Laestadius, an assistant professor of public health policy and administration at the University of Wisconsin, Milwaukee and lead author of the study.
Laestadius and her colleagues found that although the majority of companies adhered to transparency guidelines regarding security protocols, storage procedures, and third-party disclosures, only a few companies met guidelines for sharing the risks of data disclosure.
Most companies mentioned using customer data for research, but it was within the privacy policies of the terms of service documents. Privacy policies differed between companies, with some companies more clearly communicating their policies than others. However, in most cases the policies were above the recommended reading level for health information, hard to find, and written in size ten font. "People would have to know to look for it, and then they would have to really want to find it and make sense of it," said Laestadius.
Only two-thirds of the companies required a separate consent from the customer to use their data in health-related research. Additionally, companies may not require a separate consent for internal research for product optimization.
"People really want to know this information and I don't think they really want to think about the risk points," said Laestadius. She recommends having an easy to find, separate consent for research that is not part of the consent for service, in a legible font size, that people would have to click "yes I read this" to proceed.
The issue of unclear privacy policies and research involvement is not isolated to direct-to-consumer genetic testing companies. "It's also the ones that go through physicians, which I don't know if anybody's talking about yet," said Laestadius, who described her personal experience with genetic testing through a physician.
Laestadius learned that she was the only person to ever request to see the privacy policy. When she read it, she was surprised to find that it was an "opt out" research policy, meaning that the company would conduct research with her data unless she declined; but they actually didn't give any information on how to opt out. It turned out that the process involved both a phone call and an email requesting that her data be deleted and not used for research.
The wealth of genetic data generated by direct-to-consumer genetic testing companies has the potential to illuminate some of the biological secrets hidden in human populations. Thus, with every gift of genetic testing lies another gift, to help further science. Just remember to unwrap the privacy policy first.
Written ByTiffany Garbutt
Updated 13 December, 2018
Source(1) Jobling MA. Rasteiro R, and Wetton JH. In the blood: the myth and reality of genetic markers of identity. Ethnic and Racial Studies. 2015. DOI: 10.1080/01419870.2016.1105990(2) Bolnick DA, Fullwiley D, Duster T, et. al. The Science and Business of Genetic Ancestry Testing. Science. 2007. DOI: 10.1126/science.1150098(3) Shaffer JR, Li J, Lee MK, et. al. Multiethnic GWAS Reveals Polygenic Architecture of Earlobe Attachment. 2017. The American Journal of Human Genetics. DOI: 10.1016/j.ajhg.2017.10.001(4) Han E, Carbonetto P, Curtis RE, et. al. Clustering of 770,000 genomes reveals post-colonial population structure of North America. Nature Communications. 2017. DOI: 10.1038/ncomms14238(5) Laestadius LI, Rich JR, and Auer PL. All your data (effectively) belong to us: data practices among direct-to-consumer genetic testing firms. Genetics in Medicine. 2017. DOI: 10.1038/gim.2016.136
Related Tags