Installing quality into novel therapeutics development
---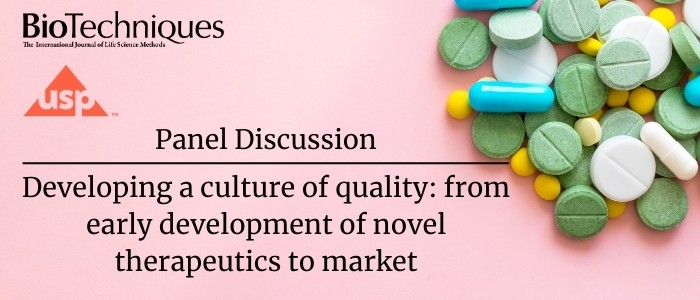 Ahead of the upcoming panel discussion, "Developing a culture of quality: from early development of novel therapeutics to market," BioTechniques caught up with the moderator of the panel, John Kokai-Kun of United States Pharmacopeia (USP; MD, USA) to find out what is exciting him about the event and what he thinks BioTechniques readers will get out of the discussion.
Please introduce yourself
I am John Kokai-Kun, Director of External Scientific Collaboration for USP. USP is a 200 year-old, science-driven, private, non-profit organization that sets purity and potency standards for medical and food products in commerce. Our mission is to improve global health through public standards and related programs that help ensure the quality, safety, and benefit of medicines and foods.
You will be moderating the upcoming panel discussion on BioTechniques. What are some of the key topics you are looking to discuss with this panel?
Many great ideas for new medical interventions come out of academia and start-up companies. While the science behind the products may be sound, these small companies often do not quite grasp what is expected by regulators, service providers and potential partners when it comes to quality and quality systems. This lack of understanding of quality requirements can lead to delays or even failures in the development program. This panel discussion is meant to be a first step in engaging with these companies to begin to explore some of the common mistakes that can be made and how to develop the "culture of quality" needed to effectively guide their product candidate through development.
---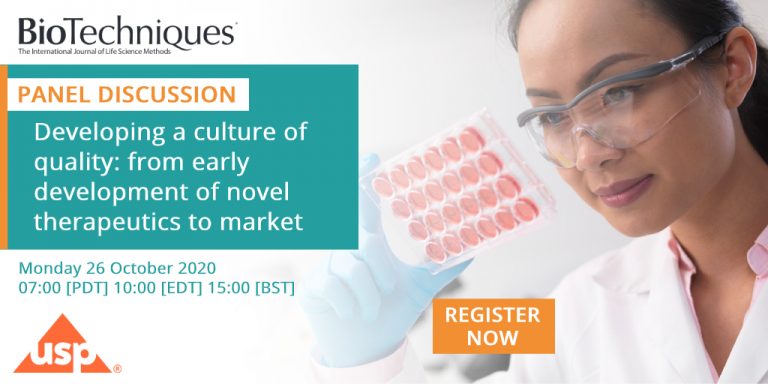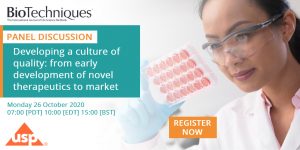 Developing a culture of quality: from early development of novel therapeutics to market
Interested in drug development and the key considerations for converting your scientific ideas into successful product development programs? Join our panel discussion in association with USP to find out more!
---
The panel includes some fantastic experts in developing novel therapeutics and the biotech industry, what did you consider when inviting these panelists?
We have recruited an outstanding panel of subject matter experts that have a long history of working with small companies to help them move their product candidates through the development pipeline. Over their many years of experience, they have each seen many instances where companies have lacked an understanding of quality requirements. This lack of understanding has, in some cases, derailed small companies' product development programs. Each expert is happy to share what they have learned from these experiences, alongside their accumulated wisdom, during this panel discussion.
What is exciting you most about this upcoming panel?
I started my career at a small start-up biotech and had the "opportunity" to personally make many of the mistakes that are common in terms of quality. I have actually worked with some of our panelists before and I am excited to share their knowledge with the audience. I know my first company could have shaved years off of some of our development programs if we had considered quality earlier in the process and made the right decisions. The opportunity to save other companies this trouble is very exciting to me.
What do you think our readers will be able to take away from this panel?
This panel discussion will be, for many in the audience, the first interaction on this subject with USP. USP is a quality-driven organization that works closely with many entities across the industry. The audience will gain some valuable insights into quality, how to begin to develop a culture of quality and will leave with a much better understanding of the resources available to help them in their product development endeavors.
---
You can find out more and register for the discussion at the link below!
This article was produced in association with USP
---