Looking for a new Thanksgiving dish? Consider purple potatoes for their potential anti-inflammatory properties.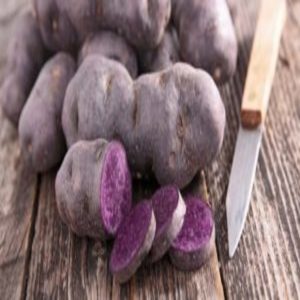 Think of the colors of a delicious Thanksgiving feast: green beans, yellow corn, golden brown turkey, crimson cranberry sauce…. This year, consider adding another colorful staple to the meal: purple potatoes. Researchers from Pennsylvania State University recently discovered that purple potatoes reduce levels of interleukin 6 (IL-6 ), a protein associated with inflammation.
"Chronic inflammation promotes a variety of diseases like colon cancer," said food scientist Jairam Vanamala, senior author of the study . "On the other side, we knew that [some] foods have anti-inflammatory compounds."
Vanamala is interested in preventing diseases through diet modification, so he and his team began searching for foods that help reduce intestinal inflammation. They wanted to select a food that is high in nutritional content, low in calories, affordable, and grown around the world. The purple potato , which meets all these characteristics and is sold in many grocery stores in the U.S., caught their attention. These root vegetables contain anthocyanins, a class of compounds that gives them their bright purple color and is known for possessing anti-inflammatory properties.
Vanamala and his team wondered how baking the potatoes would affect the health properties of the vegetable. To find out, they turned to pigs because their metabolism and digestive systems are similar humans. The researchers fed the pigs a high-calorie diet, a raw purple potato diet, or a baked purple potato diet. Then they examined the pigs' intestines to check for inflammation and polyps. Pigs that ate purple potatoes, whether raw or baked, showed greatly reduced levels of inflammation. In fact, their IL-6 levels were six times lower than pigs eating the high calorie diet.
The results excited Vanamala and his team because purple potatoes are only the beginning of the list of potentially anti-inflammatory fruits and vegetables. "We can make a difference worldwide because we can see in each culture what kinds of fruits and vegetables are already consumed, and how we can use this to combat chronic disease," he said. "For the first time in human history, we have the ability to harness the anti-inflammatory potential of food."
Written ByChristine Xu
Updated 13 December, 2018
SourceSido, A. et al. (2017). "A food-based approach that targets interleukin-6, a key regulator of chronic intestinal inflammation and colon carcinogenesis." The Journal of Nutritional Biochemistry. 43: 11-17