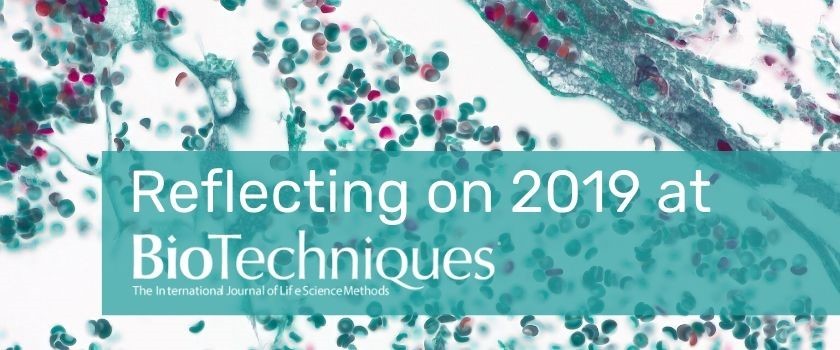 As 2019 draws to a close, we take a look at our top content from the year and reflect on how BioTechniques has changed over the past 12 months.
Biotechniques started the year with a new website, optimized for the sharing of more engaging and diverse forms of content, and a new perspective on how we were going to provide you, our readers, with the latest in life science techniques.
This change meant that 2019 was a year of firsts for BioTechniques. February saw the launch of the first podcast in our Talking Tech News series, which explores the topic of the month's journal Tech News article in more depth. The first episode saw myself and Digital Editor Abigail Sawyer discuss sustainability in labs and the efforts different institutions are going to in order to reduce their impact on the environment in 'The Unsustainable Lab: single use plastics, digesting PET and shutting the sash'.
The podcast has gone from strength to strength, with our first guest appearance coming in June from Theo Roth (University of California, San Francisco, CA, USA). Having made headlines prior to the episode for his disruptive work in T-Cell engineering, Theo spoke with us about his research with CRISPR and its applications in CAR-T therapy. You can listen to our fascinating discussion with him in Theo Roth on CRISPR, CAR-T and gene editing ethics.
A second podcast series, Talking Techniques, was duly launched in August with the first episode – Greg Michelotti on metabolomics, precision medicine and frailty biomarkers – discussing the underpublicized field of metabolomics, and has since included features from Joanne Hackett, Chief Commercial Officer at Genomics England (London, UK), Rob Knight, Co-Founder of the American Gut Project, and Hans Keirstead, CEO and Founder of Aivita Biomedical (CA, USA).
2019 also saw the launch of a revitalized video section and the BioTechniques Spotlight and In Focus features in July and September, respectively. The first Spotlight focused on the highly topical gene-editing technique CRISPR, just a month after it had been revealed that He Jiankui's CRISPR edited babies had an elevated mortality risk of 21% in their later life.
Our inaugural virtual symposium, the BioTechniques Online Event: Advancing Precision Medicine 2019, was also a big success. With over 1700 registrants and presentations from speakers such as Rob Knight (University of California, San Diego, CA, USA), Stephanie Devaney (NIH, MD, USA), Elaine Mardis (Ohio State University, OH, USA) and Heidi Rehm (Broad Institute, MA, USA), the event was a truly fascinating look at one of the most disruptive frontiers of medicine.
This expansion of content has been reflected in our social media following. The BioTechniques Facebook page now has over 650,000 followers – an increase of 600,000 from 2018 – and our Twitter page has more than 10,000.
This expanding following has led to our content reaching an increasing number of people and our top content that has featured on the site in 2019 is as follows:
Why time flies so fast as we get older
Not-So Identical Twins
Fermented foods: activating the immune system
The most highly viewed content from our new podcast and video sections also impressed. The Talking Tech News: Cerebral organoids: past, present, future, featuring Editor Jenny Straiton, has been visited over 2000 times, and our video interview with Pat Brown, CEO of Impossible Foods and inventor of DNA Microarrays, has been visited over 1000 times.
Our digital content has been read by over 974,000 digital users, from more than 200 countries and states, signaling BioTechniques' ever expanding and diversifying audience as we aim to become a journal and site of global renown and importance.
If you are active on social media, be sure to follow and connect with us on Facebook (@BioTechniques), Twitter (@MyBioTechniques), Instagram (@mybiotechniques) and LinkedIn (BioTechniques).