Using AI to quantitate histopathological features
---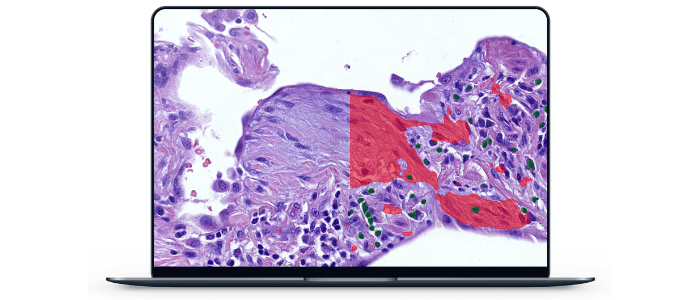 Kati Mäkelä (University of Helsinki, Finland) an MD specializing in pulmonary medicine, Speaks to Aiforia (Helsinki, Finland) about using AI to quantitate histopathological features of idiopathic pulmonary fibrosis.
Tell us about your research project:
My doctoral thesis focuses on histopathological features of idiopathic pulmonary fibrosis (IPF) and their connection to clinical information of patients with IPF.
The study cohort of the research project originates from the FinnishIPF registry that is a prospective and multicenter registry study. In this research project, we focused on the prognostic aspects of fibroblast foci, interstitial mononuclear inflammatory cells, and intra-alveolar macrophages in IPF.
You can read the publication of our research project in Human Pathology
Why did you decide to use AI for this project?
We had digitized slides of patients with IPF that we aimed to quantitate histopathological features from and compare their amount against the data derived from the FinnishIPF registry.
At first, we intended to do this manually and partly with semiquantitative methods. Our collaborator, docent and pathologist Mikko Mäyränpää, who had previous experience of Aiforia in other projects, recommended Aiforia.
Aiforia allowed us to quantitate wanted features in absolute numbers instead of using semiquantitative methods.
What did the AI software allow you to do that you could not do with traditional tools?
The absolute number of inflammatory cells is practically impossible to count manually. In addition, with the layer-based method of Aiforia, we were able to separate interstitial and alveolar inflammatory cells without immunohistochemical staining.
What is the biggest benefit of using AI in your work?
Learning to use Aiforia was fast and easy, and the staff were very friendly and helpful. We found that the numbers of inflammatory cells were associated with prolonged survival of patients with IPF; the finding is novel, and without the use of AI we could not have counted the absolute numbers of inflammatory cells.
Our finding suggests that AI can provide a new kind of approach when analyzing prognostic aspects of histopathological features in IPF and, perhaps in the future, other interstitial lung disorders as well.
---
This content was provided by Aiforia. Find out more about AI for medical image analysis here: https://www.aiforia.com/blog/intro-to-ai-ann
---