Breathe easy with natural killer cells
---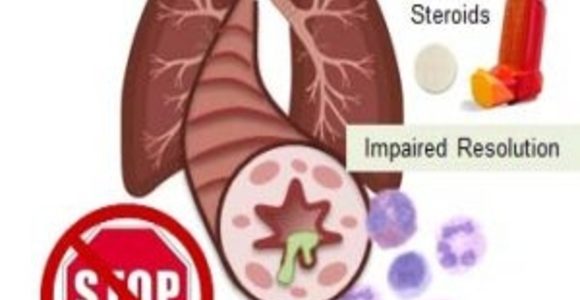 A national study shows that current asthma treatments may be doing more harm than good for severe asthma patients.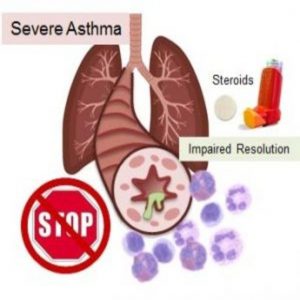 Steroid treatment impairs NK cell–mediated resolution of airway inflammation in severe asthma.
Image courtesy of Dr. Melody Duvall.
With a name like natural killer (NK) cells, you might think you don't want these cells around. However, NK cells are vital to the immune system, playing a major role in killing harmful cells in the body and naturally resolving inflammation. Now, a recent article in Science Immunology demonstrates that current asthma treatments inhibit NK-cell function in patients with severe asthma, possibly worsening the condition (1).
"Severe asthma represents a disease of the lung with inflammation that fails to resolve," said Bruce Levy from Harvard Medical School, corresponding author of the article. "It affects about 10%–15% of the people with asthma, and it doesn't respond well to current therapies."
Levy is a leading investigator of the National Heart, Lung, and Blood Institute–sponsored Severe Asthma Research Program—a study with 7 research centers across the United States that collects samples from patients with varying severities of asthma and follows them for 3 years to understand how the disease evolves.
Levy and the team recruited patients willing to undergo a bronchoscopy—an uncomfortable procedure that uses a bronchoscope to examine the throat and lower airways. "They agreed to participate for the sake of science and advancing the science to enable the development of new treatments. That was wonderful," said Levy.
From the patient samples, the team identified and quantified NK cells and compared them to those from healthy individuals. The researchers found that more leukocytes—an NK-cell target responsible for inflammation—underwent apoptosis when incubated with healthy NK cells compared to asthmatic NK cells, indicating that NK cells from asthma patients are less effective at killing leukocytes and resolving inflammation.
According to Levy, one of most interesting discoveries happened when the researchers added corticosteroids—the current asthma therapy— to the leukocyte/NK cell mixture. Corticosteroids further decreased NK cell–mediated leukocyte apoptosis for both healthy and asthmatic NK cells.
This is a potentially important clinical observation, according to Levy. "We could actually be introducing harm to their ability to fight off infection," he said.
The researchers next plan to determine why the cells from patients with severe asthma are different and why the steroids are impacting their NK-cell function. "The ultimate goal is to try to dive down to a more molecular or mechanistic understanding of disease," said Levy, who added that these findings may potentially lead to a cell-based therapeutic strategy to restore the protective function of NK cells.
---