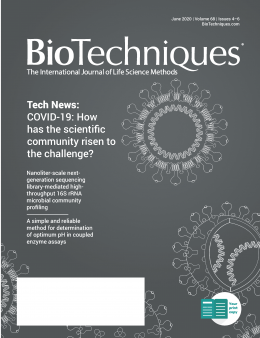 April 2020 – Vol. 68 No. 4
May 2020 ‐ Vol. 68 No. 5
June 2020 ‐ Vol. 68 No. 6
Best of BioTechniques eBook – April to June 2020
Receive the best BioTechniques content from peer-reviewed journal articles to online-only interviews, opinions and the latest news. In this April to June 2020 edition, we delve into the murky depths of big data, examine science's response to COVID-19, profile a human, and put the Spotlight on 3D cell culture.
Exclusive to BioTechniques members, register now to download your copy immediately!
You must be signed in to download
Submit to journal
Highlights of this issue include: 
Opinion: My data suck and so do yours! 
Interview: Building a LEGO lab 
Interview: The soil microbiome: a ticking time bomb for climate change 
Report: Digital droplet PCR and IDAA for the detection of CRISPR indel edits in the malaria species Anopheles stephensi 
Report: Cellular thermal shift analysis for interrogation of CRISPR-assisted proteomic changes 
Report: Nanoliter-scale next-generation sequencing library-mediated high-throughput 16S rRNA microbial community profiling 
Report: A simple and reliable method for determination of optimum pH in coupled enzyme assays 
Report: Optimization of western blotting for the detection of proteins of different molecular weight 
Benchmark: A novel method for removing polyethyleneimine from biopharmaceutical samples: improving assay sensitivity of residual DNA qPCR 
Benchmark: 3D-printable cell crowding device enables imaging of live cells in compression 
Benchmark: Kinase activity-tagged western blotting assay 
Plus new products for your lab, information on our cover competition, and many more method articles, interviews and expert opinion pieces. 
---
Want to feature in the issue? Email us or submit through our manuscript portal.
Want to receive this in print? Contact our subscriptions team.