Gut microbes correlate with differences in host physiology, but how do they participate in these changes? Or do they simply respond to changes?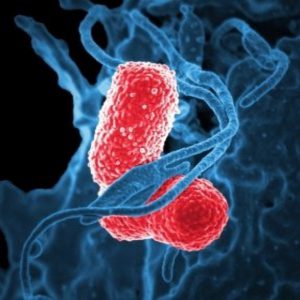 Gut microbes correlate with differences in host physiology, but whether microbes participate in these changes or simply respond to them remained unclear. New research published in Nature now shows that gut microbes produce small molecules that mimic metabolites produced by human cells, suggesting that host and microbe cells speak the same molecular language.
To identify the important functions of the intestinal microbiome, Sean Brady and Louis Cohen from Rockefeller University and their colleagues isolated DNA from human gut bacteria and put it into host bacterial species in lab cultures. Then they screened for compounds produced by the gut bacterial genome that would interact with human cells. That screen led them to a family of genes that code for enzymes producing small molecules called N-acyl amides, which are ligands for G-protein coupled receptors (GPCR).
"The native ligands for these GPCRs sure looked an awful lot like our bacterial molecules, suggesting a convergence between bacterial signaling molecules and human signaling molecules around this N-acyl amide family," said Brady. "You could use the term mimicry."
The researchers decided to focus on GPR119, a G-protein receptor that is expressed in cells in the intestinal tract. They hypothesized that this GPCR "is in intimate contact with gut bacteria and can respond to both bacterial and human ligands, and helps set the metabolic tone of your body," Cohen explained. Indeed, the researchers showed that the bacterial and human ligands interact with GPR119 in similar ways.
To probe the physiological consequences of this dual interaction, the researchers colonized lab mice with bacteria expressing the gene for the enzyme that produces the GPR119 bacterial ligand. Expression of this molecule in gut bacteria led to changes in blood glucose and metabolic hormones in mice.
"What I think is important is that this reservoir of novel [microbial] ligands has the potential, when it's manipulated, to have physiological effects," Brady said. "If you can understand what chemistry is there, you can potentially modulate it therapeutically."
Many human GPCRs have no known ligands, suggesting that they may respond to microbial ligands, rather than ligands produced by human cells. "The large scale exploration of ligands from the human microbiome would potentially be an interesting move forward," Brady said.
Written By Viviane Callier
Updated 28 March, 2019
Source Cohen LJ, Esterhazy D, Kim SH, Lemetre C, Aguilar RR, Gordon EA, Pickard AJ, Corss JR, Emiliano AB, han SM, Chu J, Vila-Farres X, Kaplitt J, Rogoz A, Calle PY, Hunter C, Bitok JK, Brady SF. 2017. Commensal bacteria make GPCR ligands that mimic human signaling molecules. Nature 549:48-53
Related Tags