Researchers show a novel way to combat pest-resistance in crops. Could this save farmers worldwide from huge economic losses incurred due to infested plants?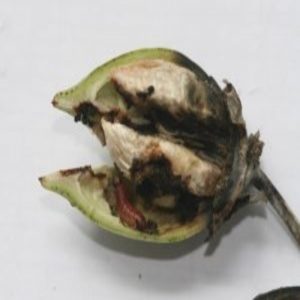 A cotton boll infected with the pink bollworm.
Credit: Wan Peng, Institute of Plant Protection, Beijing, China
In the past, farmers have suffered heavy losses from pink bollworm infestation of their cotton fields. In an effort to prevent such losses, researchers introduced toxin-producing genes from Bacillus thuringiensis (Bt) to the crop in 1996. The resulting genetically modified Bt-cotton plants produced the toxin, keeping the pests at bay and drastically reducing the need for and cost of synthetic pesticides. But in recent years, the pink bollworm has begun developing resistance to Bt toxin, raising concerns about a new, widespread infestation. Now, a timely report in Proceedings of the National Academy of Sciences suggests a simple method to counter pest resistance in Bt-cotton.
Kongming Wu, an entomologist at the Institute of Plant Protection in Beijing, China was interested in understanding the relationship between Bt-cotton and cotton pests. He and his team closely monitored the resistance of pink bollworm to Bt toxin in the Yangtze River valley from 2005 to 2015 by collecting pink bollworm larvae from fields and testing their growth in the presence of Bt toxin.
The team noted that Bt-cotton kept pink bollworm counts low for a few years, but there was a sharp increase in pest resistance between 2008 and 2010. Surprisingly, the resistance the declined in the following years.
To understand the reason behind this decline, Wu and his team used immunoassays to test seeds from different fields for the presence of Bt-toxin. They found that approximately 25% of cotton seeds sampled between 2011 and 2015 did not contain Bt toxin. Generally, second generation (F2) hybrids, obtained by first crossing BT-cotton with non-Bt plants (F1), and then pollinating F1 hybrids with themselves, typically yielded 20–25% non Bt-cotton seeds. The team suspected that farmers had been planting F2 hybrids of Bt-cotton and non Bt-cotton, which seemed to delay pest resistance.
"For the first generation (F1), Bt-cotton cost is very high, but for second generation (F2) Bt-cotton comes from F1 Bt-cotton, so it's very, very cheap," Wu explained. He added that the low cost makes this a convenient measure for farmers to manage insect resistance.
Wu and his collaborators further tested their hypothesis that F2 hybrids counter pest-resistance using computer modeling. The predicted resistance patterns from their models matched those from the actual field data, thus verifying that hybridizing Bt-cotton with conventional cotton can delay pest resistance.
"This is the first sort of field evidence-based study to show the possible impact of non Bt-plants on resistance," said Dominic Reisig, a professor at North Carolina State University who was not involved in the study. However, he noted that country-specific laws may not permit farmers to replicate the exact method globally since companies selling transgenic seeds may not allow storage of the seeds for hybridization. But alternative ways that increase survival of the non-resistant pink bollworm population can be adopted by co-cultivating small percentages of conventional cotton with Bt-cotton.
Wu intends to continue monitoring the resistance patterns of the pink bollworm in China. "I think for next 5 or 3 years, all farmers will plant this kind of hybrid seeds. I think we will delay pink bollworm resistance very well [using this method]," said Wu.
Written By Meenakshi Prabhune
Updated 13 December, 2018
Source Wan, Peng, et al. "Hybridizing transgenic Bt cotton with non-Bt cotton counters resistance in pink bollworm." Proceedings of the National Academy of Sciences (2017): 201700396
Related Tags