Researchers unravel the herpes simplex genome
---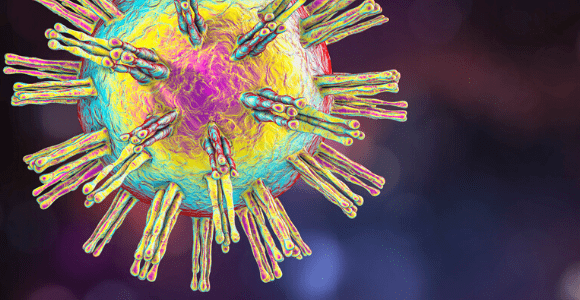 A genomic study has led to the discovery of 46 novel large open reading frames (ORFs) in the herpes simplex virus 1 (HSV-1) genome.
HSV-1 causes itching blisters located primarily around the lips, which are referred to as cold sores. HSV-1 is incredibly common, it is estimated that 67% of individuals worldwide under the age of 50 are infected.
There is no cure for HSV-1 – once an individual is infected, the virus remains latent in the body's cells for the rest of their life. The virus can become reactivated in some circumstances, for instance, when the immune system is weakened, in times of psychological stress and excessive exposure to sunlight.
While HSV-1 causes uncomfortable, inconvenient symptoms in the majority of individuals, in some cases it can lead to life-threatening side effects, including pneumonia in immunocompromised patients. HSV-1 encephalitis can result in permanent brain damage and even death. Understanding the HSV-1 genome could have vital implications for potential treatment options.
Now, researchers have provided a clearer insight into the genome of HSV-1. Published recently in Nature Communications, the work was a collaborative effort between researchers from Julius-Maximilians-University of Würzburg (Germany), the Max Delbrück Center for Molecular Medicine (Berlin, Germany), the University of Cambridge (UK) and the Ludwig Maximilian University of Munich (Germany).
---
Is NRF2 activation the key to treating the herpes virus?
Researchers have discovered that the transcription factor NRF2 plays a major role in herpes simplex virus infection and thus is an effective target for restricting viral infection.
---
Using a multi-omics approach the team revealed the complete viral transcriptome and translatome, providing a unique insight into gene expression levels of HSV-1 during lytic infection.
It was previously thought that HSV-1 possessed approximately 80 ORFs – areas of the genome that can be translated. However, this study identified 284 in total, including 46 novel large ORFs. One newly-identified ORF is located in an area of the genome that is deleted in the oncolytic virus talimogene laherparepvec, which is approved by the US FDA (MD, USA).
HSV-1-based oncolytic viruses are a form of immunotherapy used to treat certain cancers and they have shown particular success in the treatment of melanoma. Talimogene laherparepvec is a genetically engineered strain of HSV-1 that induces an immune response against cancer cells whilst being unable to infect healthy tissue.
"The new findings now make it possible to study the individual genes of the virus much more precisely than before," concluded the study's co-lead author Lars Dölken (Julius-Maximilians-University of Würzburg).
---