Application Note: Seamless integration of cell isolation with protein isolation and analysis
---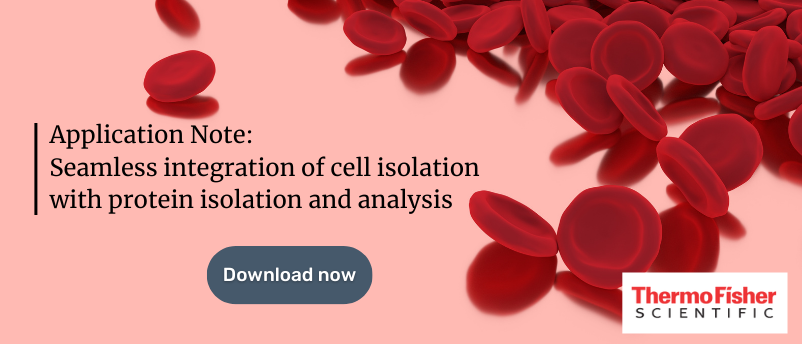 Blood is a very complex matrix consisting of numerous cell types with various functions. Understanding these functions is of great importance, but blood samples can be challenging to study. Reducing sample complexity by isolating cells of interest or removing unwanted cells is therefore a critical step prior to downstream examination.
Register below for the Application Note to discover a new iteration of beads for high-performance cell isolation procedures.
Download Application Note
More information
Invitrogen™ Dynabeads™ magnetic beads are uniform, nonporous, monodisperse superparamagnetic polystyrene beads that are widely used in various applications. The beads provide consistent physical and chemical properties that have been instrumental in providing high-performance cell isolation products targeting cells of the immune system, alongside other cell types, for the last 30 years.
In this Application Note you will learn about:
The optimization of bead capture after cell isolation
Protocol performance on biologically relevant materials
IP of target proteins from cells isolated on KingFisher instruments
And much more!
This content was provided by Thermo Fisher Scientific.
---