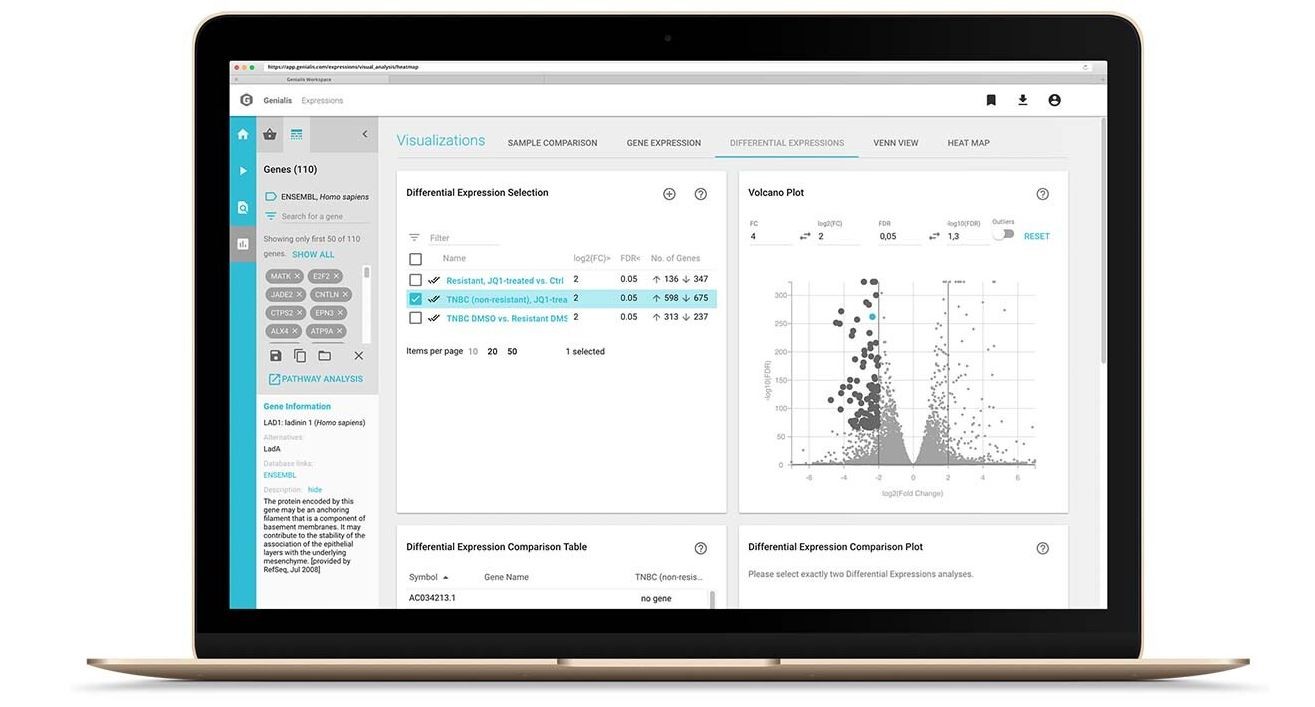 [CARLSBAD, Calif.] – Informatics is currently one of the biggest bottlenecks in the next-generation sequencing (NGS) workflow, slowing down the journey from raw data to discovery. To address this, Thermo Fisher Scientific has entered into a co-marketing agreement with Genialis, a data science company leading the industry in RNA-based discovery.
The agreement will create an analysis workflow integrating the Invitrogen Collibri Stranded RNA Library Prep Kit for Illumina Systems with Genialis Expressions analysis software to support the data analysis needs of Thermo Fisher Collibri customers. When researchers initiate their NGS research, the library preparation kit provides a short, automation-friendly workflow, converting mRNA to sequencing-ready library in as little as 4.5 hours. Once sequencing is completed, the software eases analysis bottlenecks associated with scalable computation, pipeline optimization and downstream data interpretation.
"With our RNA library prep kits, we strive to make library preparation for high-throughput genome sequencing as efficient as possible. Genialis is a leader in providing industrial-strength analytics to pharma, biopharma and large sequencing centers. Through our collaboration, data analysis will now be as rapid as the library preparation, easing the barriers to high-throughput sequencing to advance science for all," said Raymond Mercier, vice president and general manager of molecular biology for Thermo Fisher Scientific. "With an accelerated analysis process, our customers can dedicate more time to deriving meaningful results from the data. This collaboration, leveraging Thermo Fisher's innovative library prep kits, is yet another example of how we are developing solutions that enable our customers to make the world healthier."
The Collibri Stranded RNA Library Prep Kits for Illumina Systems enable clean gene expression analysis, with successful projects involving both human and plant samples. The Genialis software will allow for more streamlined processing of Collibri RNA-Seq data sets for applications such as biomarker discovery.
"The goal is to accelerate discovery to empower scientists to find the story in their data. We want researchers focused on great experiments rather than data processing," said Rafael Rosengarten, CEO of Genialis.
For more information, please visit https://www.thermofisher.com/uk/en/home/life-science/sequencing/next-generation-sequencing/ngs-library-preparation-illumina-systems/collibri-stranded-rna-library-prep-kits/genialis-data-analysis-software.html?cid=BID_R01_PJT4575_COL09326_PR_NWR_PR_VT_205