A blood test for lung cancer treatment
---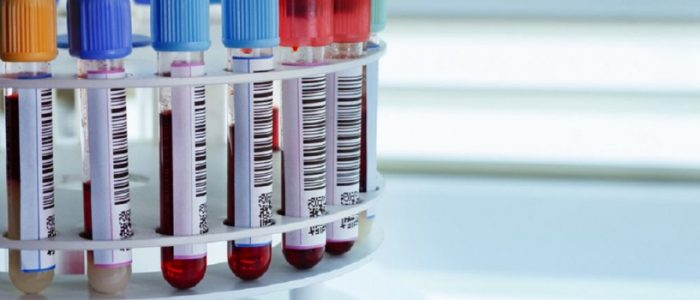 A liquid biopsy test has been shown to be comparable with current tissue biopsy tests when it comes to lung cancer therapy decisions.    
Research has demonstrated that Guardant360, a liquid biopsy test that detects all guideline-recommended biomarkers for newly diagnosed metastatic non-small-cell lung cancer (NSCLC), detects biomarkers with a faster turnaround time than current standard-of-care tests, and with a similar overall rate. The data were presented during a media preview of the AACR Annual Meeting 2019 (29 March – 3 April, GA, USA). 
With 30% of lung cancers treatable with molecularly targeted therapies, testing is important to ensure a fully informed therapy decision can be made. However, recent research has highlighted that only 8% of NSCLC patients receive guideline-recommended testing.  
"Tissue biopsy-based tests are invasive, can have serious complications, are time-consuming, and the specimens are often inadequate to test for all the relevant mutations," explained Vassiliki Papadimitrakopoulou (The University of Texas MD Anderson Cancer Center, TX, USA).  
Her team's research has suggested that Guardant360 could ameliorate these difficulties. "Our study shows that Guardant360 test results can be obtained in about a week, are reliable, and in some respects a better alternative to the traditional tissue testing in ensuring guideline-complete molecular testing for all patients," she noted.  
The test utilizes cell-free tumor DNA in blood and detects the predictive biomarkers EGFR, ALK, ROS1, BRAF, RET, MET and ERBB2, along with a prognostic KRAS mutation. It was compared with the current standard in 282 newly diagnosed NSCLC patients. Guardant360 increased the rate of detection by 48% and had a median turnaround time of 9 days – the median for tissue-based testing was 15 days.  
The study also found that for the biomarkers EGFR, ALK, ROS1 and BRAF, for which there are US FDA-approved drugs available, the results were concordant with tissue-based results with a positive-predictive value of 100%.  
"Advanced NSCLC is a uniformly deadly disease, therefore, getting patients on treatment as soon as possible is paramount," commented Papadimitrakopoulou. "Our results show that a highly sensitive and specific liquid biopsy should be part of the standard of care for these patients." 
It should be noted, however, that the liquid biopsy test was compared with the current standard-of-care, and not the tissue-based next-generation sequencing test.  
---