---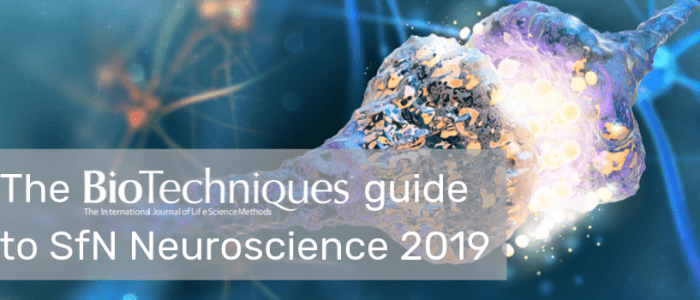 Attending SfN Neuroscience 2019? Here we will answer some popular questions about SfN Neuroscience 2019 and how to make the most of it.
What is SfN Neuroscience 2019?
SfN Neuroscience 2019 is the 49th annual meeting of the Society for Neuroscience (SfN) and is the world's largest conference for sharing new ideas in all things neuro. Approximately 30,000 people are expected to attend from over 70 different countries to share their research.
The meeting has been split into ten themes:
Development
Neural Excitability, Synapses and Glia
Neurodegenerative Disorders and Injury
Sensory Systems
Motor Systems
Integrative Physiology and Behavior
Motivation and Emotion
Cognition
Techniques
History, Education and Society
This year's meeting will run from 19-23 October.
What should I look out for at SfN Neuroscience 2019?
Presidential Special Lecture- Understanding Cortical Development and Disease: From Embryos to Brain Organoids. Sunday, 20 October, 5:15-6:30 PM. A leader in cerebral organoid research, Paola Arlotta (Harvard University; MA, USA) considers the extent to which cortical development can be replicated outside of the embryo and discusses the promise that cerebral organoids hold as a way to investigate neurodevelopmental disease.
Artificial Intelligence and Neuroscience: From Neural Dynamics to Artificial Agents. Monday, 21 October, 8:30-11:00 AM. Research in machine learning is advancing at a rapid pace, impacting all areas of science. In this minisymposium, the speakers will explore various topics at the intersection of machine learning and neuroscience and demonstrate recent advances in the field.
New Technologies for Imaging Neuronal Structure and Activity. Tuesday, 22 October, 1:00-4:15 PM. This nanosymposium covers the latest advances in imaging the brain at a neuronal level, ranging from infrared optical probes to genetically targeted fMRI.
Biomarker and Drug Discovery: Neurodegenerative Diseases. Tuesday, 22 October, 1:00-5:00 PM and Biomarker and Drug Discovery: Neuropsychiatric Diseases. Wednesday 23 October, 8:00 AM – 12:00 PM. These poster sessions explore how the latest technology is being utilized for the drug discovery process in neuroscience. Covering 3D neural tissue models as drug screening platforms and new methods of detection of biomarkers, these sessions have all you need for a full understanding of drug discovery in neuroscience.
Virtual Brain Models. Wednesday, 23 October, 8:00-12:00 PM. Bringing the virtual world into scientific research, this poster session covers the various ways that simulations of the brain can be applied to neuroscience research.
Genomic Engineering Using Enhancers or CRISPR. Wednesday, 23 October, 8:00-10:30 AM. Focusing on genetic and epigenetic editing, this nanosymposium is not one to miss for anyone keen geneticist or CRISPR fan.
Make sure you plan your time wisely prior to the conference and use the handy 2019 Neuroscience Meeting Planner online or download the app to ensure you don't miss any key talks.
How can I meet the BioTechniques team?
BioTechniques Managing Editor, Joseph Martin, and Editor in Chief, Francesca Lake, will both be present at SfN Neuroscience 2019, along with our sales team, Sarah Mayes, JT Hroncich and Carol Nettles. They are all excited to meet as many BioTechniques authors and readers as possible so be sure to stop by booth #128 in the exhibit hall.
If you're looking to publish, or for an opportunity to communicate your research to a wider audience, email [email protected] to arrange a meeting, or stop by the booth to find out more. We are always on the lookout for new collaborations and contributions to our numerous multimedia offerings on the www.biotechniques.com website.
If you are interested in advertising with us or want to know more about our various sales opportunities, email BioTechniques Publisher Sarah Mayes at [email protected] to set up a meeting!
Answers to some of your most frequently asked questions
Where is SfN Neuroscience 2019?
The conference will be held at The McCormick Place Convention Center, Chicago, IL, USA. For information on how to get there, visit the convention center's website.
When is the registration deadline for SfN Neuroscience 2019?
Advance registration has now closed though you are still able to register for the standard online discount and will be able to do so for the duration of the meeting. Registering online offers you discounted fees and you are able to skip the line when you arrive at the center, picking up your badge at the Express Badge Pick-up location using your confirmation number.
You can also register on-site when at the conference, in line registration opens on October 19th at 7.30 am.
More details on registration options can be found on the registration page of the SfN Neuroscience 2019 website.
What is included in the SfN Neuroscience 2019 registration fee?
Registration covers the entire meeting and gets you access to all of the SfN-sponsored sessions, lectures, poster presentations and symposia as well as the exhibit hall and any SfN-sponsored social events.
Is there childcare at SfN Neuroscience 2019?
On-site childcare is available throughout the conference for children ages 6 months to 12 years old, provided by the firm KiddieCorp. There is also an infant care room available, designed for the privacy of parents caring for infants while at the convention center.
Is there WiFi available at SfN Neuroscience 2019?
SfN provides free wireless internet access to all attendees at the conference. It will be available for use in the lobbies, meeting rooms and exhibit hall of the convention center. As with phone signal, some areas will have stronger connection than others.
How can I get in touch with the SfN Neuroscience team?
For more information about the event visit the SfN Neuroscience 2019 website or email [email protected].
Keep up to date with SfN Neuroscience 2019
Subscribe to the BioTechniques newsletters to be kept abreast of what is happening during this year's meeting and follow us on twitter at @MyBioTechniques to keep up with what our team get up to.
---