Targeting epigenetics for novel AML treatments
---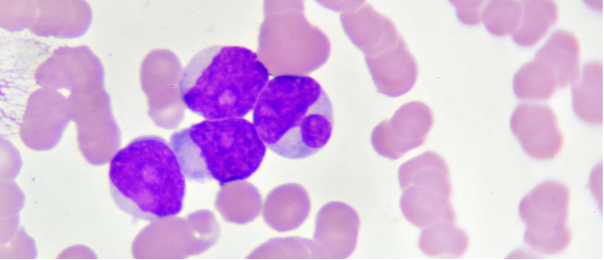 CRISPR screening has identified a new drug target for acute myeloid leukemia, which could lead to the development of a novel therapeutic against the cancer.
Treatment options for acute myeloid leukemia (AML) need to be broadened. Currently, the standard of care for AML, – which affects over 20,000 people every year – includes chemotherapy. However, there is a 5-year survival rate of 27% for people over 20 as not all those with AML will respond well to chemotherapy.
Therefore, a research team from Penn Medicine (PA, USA) set out to identify novel drug targets for AML using a CRISPR screening method. They identified targetable regions on ZMYND8, which they believe could also lead to treatments with fewer side effects as ZMYND8 is an epigenetic regulatory protein, rather than a mutated gene.
"We've discovered that cancer cells in patients with AML rely heavily on ZMYND8, and thanks to a sophisticated CRISPR-based screening approach, we pinpointed the exact 'druggable pocket' to target," commented senior author, Junwei Shi.
---
CRISPR is a key element of many lab scientists' toolkits. In addition to its application in basic research, CRISPR is also being applied as a diagnostic and therapeutic tool, and is generating invaluable insights for drug discovery.
---
"The findings suggest that delivering drug inhibitors against ZMYND8 could disrupt the AML vulnerable gene regulation circuits," explained first author, Zhendong Cao. "It's an opportunity to develop better precision medicine compounds than current treatments to treat this blood cancer – which we are currently working on right now."
During screening in mouse models, the researchers discovered that smaller tumors and better survival rates were possible when the epigenetic reader function of ZMYND8 was inhibited. They also realized it may be possible to predict the sensitivity of AML cells to a ZMYND8 inhibitor through expression levels of the IRF8 gene in AML cells. The researchers successfully validated this biomarker by measuring expression levels of IRF8 and the presence of an IRF8 enhancer DNA element from blood samples of people with AML.
"Many genetic and epigenetic alterations have been identified in cancer but few are actionable targets," concluded co-author Shelley Berger. "CRISPR revealed here, for the time (sic), an unexpected epigenetic-linked molecular circuity (sic) that AML is dependent on, and one that we can potentially manipulate. It opens a new door toward better treatments for these patients using next-generation epigenetic inhibitors."
---