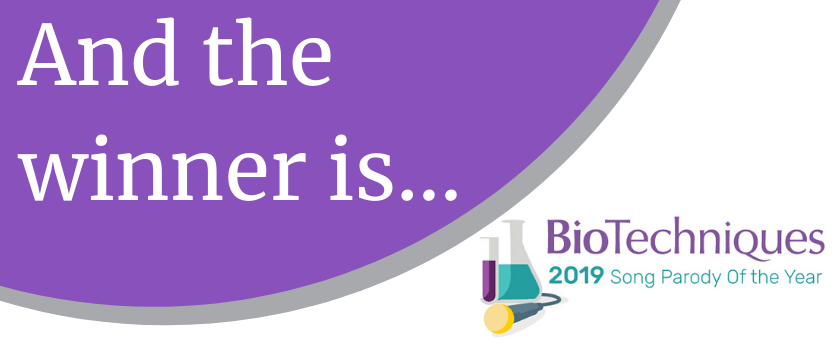 Your votes have been counted and the winner of the 2019 BioTechniques Award for Science Song Parody of the Year has been decided!
---
And the winner is … *drum roll please* … Neuro Transmissions with "Postdoc Me Now." We spoke with one half of the brains behind Neuro Transmissions, Alie Caldwell, about her research and science inspirations.
---
Please can you tell us a little bit about yourself and why you created the video?
My name is Alie Caldwell. I'm a graduate student finishing up my PhD at UC San Diego (CA, USA). My partner Micah Caldwell and I are the creators of Neuro Transmissions, a YouTube channel all about the brain. Our video, "Postdoc Me Now," was created in collaboration with my graduate program, the UCSD Neurosciences Graduate Program.
Whenever the Society for Neuroscience (SfN) conference comes to San Diego, it's become a tradition that my graduate program hosts a big social during the conference. Starting in 2011 with the video "Poster Face," the graduate students began making parody music videos of popular songs to drum up excitement and advertise for the party. Micah and I have helped produce the videos, which have included "Get Data," "Work Alone," and this past year's "Postdoc Me Now." Every few years, the students collaborate to choose a song, write lyrics, record the audio, and block out the video. Micah and I then direct the filming and Micah does the audio and video editing to produce the final product. We then share the video on social media to help let the community know about our party!
When did your interest in science first begin?
I've always been fairly scientifically-minded; some of my earliest career aspirations included marine biologist and veterinarian. I truly fell in love with science when I was 12, when my grandfather gave me his copy of Carl Sagan's "Cosmos". I was thrilled by his descriptions of our universe and his speculation of what life might look like on other planets. That was the moment I knew I wanted to be a scientist; so I could help explore some of those questions myself.
What are you currently working on in the lab?
I'm just finishing up my graduate research and I'll be defending my dissertation in August. My research has been focused on how non-neuronal brain cells affect how neurons grow and communicate. In particular, through my research, I've identified over 1000 proteins secreted by cortical astrocytes in vitro, and have found that several interesting proteins that are increased in secretion in genetic neurodevelopmental disorders like Rett Syndrome and Fragile X Syndrome may play key roles in the changes in neuronal morphology associated with those conditions.
---
---
What would be your advice to any young person interested in science?
Science belongs to everyone; we need all kinds of people and perspectives to help us produce the best research possible. So my advice is for young people to realize that science isn't limited to the researchers in the white lab coats in their ivory towers. Science is something that permeates every level of society, and affects us all every day.
Whether or not you want to become a scientist, or a doctor, or an engineer, or an artist, or an accountant – learning about the world around you can still enrich your life. And if you feel like you're not understanding a scientific concept, it's not because you're not smart enough to understand it – it's because the words being used to explain it are too technical or poorly defined. Everyone is smart enough to "get it"; it's just that sometimes there's a language barrier.
Who is your favorite scientist and why?
I really admire Marie Skłodowska Curie for several reasons. She bucked social norms to become highly educated in the sciences at a time when women were discouraged from pursuing an education, while working constantly to make enough income to cover her food and shelter. She's the only person to have won the Nobel Prize twice, and to have won the Nobel Prize in two different fields.
If you could have any job in the world, what would it be?
Either an astronaut, or running one of those small, local farms that grows lots of seasonal vegetables and has a few cute goats.
Is there anything else you'd like to add?
We love making educational science videos, but we also like to have fun. We're very honored to be recognized with the Science Song Parody Award this year!
---
Congratulations to Neuro Transmissions! Thank you to Alie for those incredibly inspiring words; we were all blown away, not only by the brilliant production quality of this parody, but that the team fit this in around their research, which makes for a very worthy winner! The BioTechniques team can't wait for the next time the SfN meeting lands in San Diego…
You can watch their winning science song parody "Postdoc Me Now" again here: