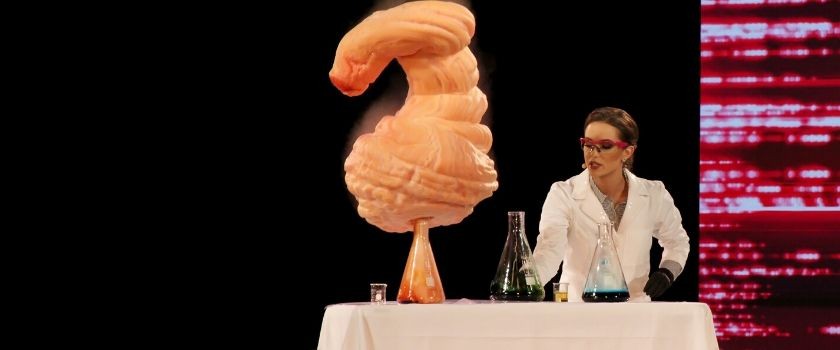 This year's Miss America 2020 brought something slightly different to the stage and came up trumps with her unique scientific display.
It's an experiment that many of us will have seen at school, but in a setting that you might not expect. This year's Miss America winner, Camille Schrier, performed the demonstration often referred to in classrooms as the 'elephant's toothpaste experiment' in the talent section of the competition.
Schrier, who holds dual Bachelor of Science degrees for biochemistry and systems biology and is studying for a doctorate in pharmacy, demonstrated the volcanic effect of adding potassium iodide to hydrogen peroxide, resulting in the catalysis of hydrogen peroxide decomposition.
Aided by a little food coloring and some showbiz presentation, Schrier's presentation wowed the judges and played a vital part in her securing the Miss America 2020 crown.

Camille Schrier demonstrating the decomposition of hydrogen peroxide at Miss America 2020.
Now, this may not have been a groundbreaking experiment, pushing the boundaries of medical science. But Schrier's presentation, and subsequent win, presents a different kind of breakthrough. The Miss America pageant – so long defined by a swimsuit section and beaming pearly whites, without necessarily giving much attention to contestants' intelligence and ability – now has a winner with a strong scientific grounding who is outwardly spoken and proud of her field and accomplishments.
In an era when days such as Women in STEM are still sadly key to raise awareness for the barriers that women face in STEM careers and to promote positive attitudes and role models for young women and girls deciding on the subjects and careers that they find stimulating, Schrier offers another public figure in a previously rather academically streamlined role that can inspire a new generation of women.
Speaking to the celebrity panel at the event Schrier stated that "Miss America is someone who needs to educate," and as part of her role as Miss America, she will be spending the year advocating for the Mind Your Meds program to tackle the rising tide of prescription drug abuse in America.
While coming from an unusual source, this news story highlights that sometimes, the biggest attitude shifts and impacts in life science can be delivered from outside the lab. Ultimately, let's hope that Schrier's win can inspire more young minds to join STEM careers and add value to the field of life science as a whole.