Announcing CoolLED's NEW 8-channel Illumination System!
---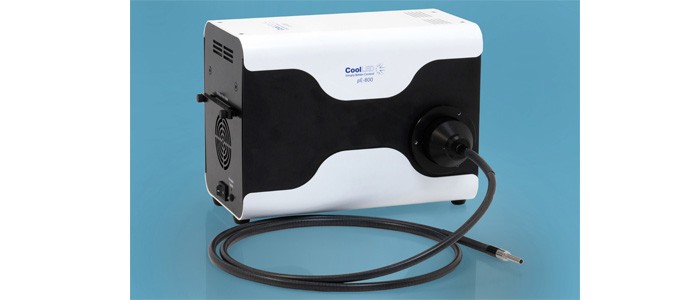 CoolLED are excited to announce the launch of the CoolLED pE-800, the most intuitive and controllable 8-channel LED Illumination System available. The main benefits include:
Fluorescence freedom with eight channels: Fluorophore choice is no longer limited by the light source as broad spectral coverage from 365-740 nm is ideal for DAPI to Cy7. Selecting the optimum LED excitation wavelength combination also helps achieve contrast-rich images revealing finer details and more information.
Lightning fast microscopy: <7 µs TTL triggering is a breakthrough for live cell imaging, capturing dynamic events with the highest temporal resolution.
Affordable automation: A manual microscope is transformed into an affordable and powerful eight-channel automated imaging system, with inline excitation filters and our unique 8-channel Sequence Runner which enables triggering of illumination sequences with just a single TTL-out of a camera.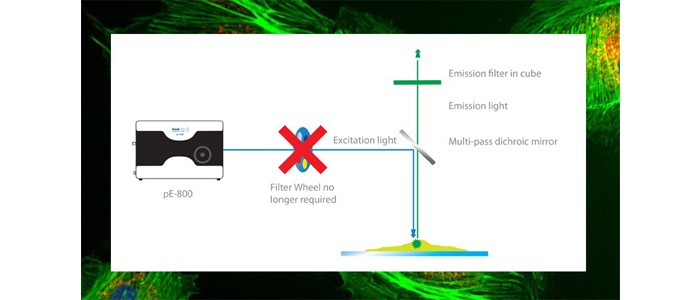 Affordable high-speed imaging with <7 µs TTL triggering and inline excitation filters
Protecting your samples: Pushing the boundaries of time-lapse studies and re-creating life-like behaviour is possible by protecting live cells against photobleaching and phototoxicity. With tight hardware synchronisation, samples are exposed only during acquisition, and irradiance can be finely balanced to the lowest levels while still maintaining image quality.
Intuitive software control: Benefit from fast USB 2.0 connectivity and the user-friendly LightBridge Graphical User Interface.
Sustainable illumination: Ultra-low power consumption and mercury-free LED illumination is the ideal choice for cleaner, greener labs.
It's a fantastic achievement, and they are proud of our R&D Team and everyone who helped make it happen. CoolLED MD, Jim Beacher, commented: "This year has highlighted the incredibly valuable work carried out by life scientists, but labs are facing tough times ahead as budgets are stretched. With the new pE-800, our desire is to make the many benefits of LED illumination technology accessible to all, enabling every microscopist to get the best insights from their samples."
Have any questions? Contact us, or find your local reseller.
This content was supplied by CoolLED.
---