Categories // Cell development biology //
AACR19: New, high-throughput automated cell counter could give cellular analysis at a higher speed and accuracy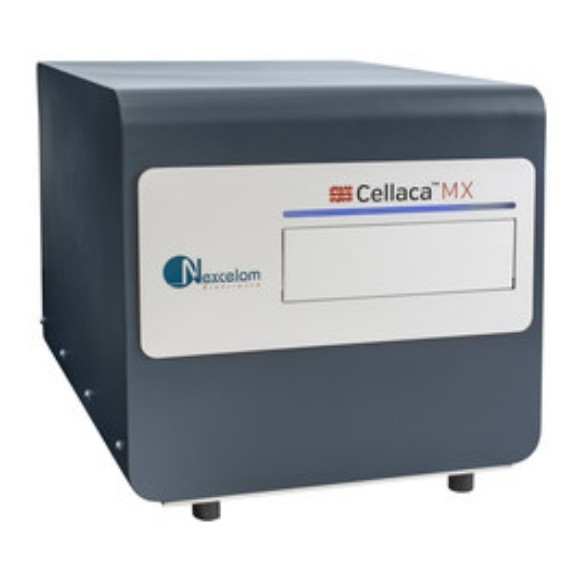 Nexcelom Bioscience (MA, USA) have announced the launch of their new automated cell counter, the CellacaTM MX.
Announcing the launch at the AACR Annual Meeting 2019 (29 March – 3 April, Atlanta, GA, USA), Nexcelom introduce their new high-throughput, high-speed automated cell counter known as the Cellaca™ MX.
To be used for accurate cell sample concentration, viability and morphology measurements, the Cellaca™ MX allows for 24 samples to be imaged and processed in 48 seconds with only 25μL of sample required. The company stated that this makes the Cellaca™ MX suitable for droplet-based single-cell transcriptome analysis, which may be used to analyze primary samples from both human and animal models.
"The Cellaca™ MX has dramatically reduced sample processing time for our ex vivo preparations.  What used to take us 5 people and 7 hours, now takes us only 3 people and 4 hours to process the samples, count the cells and plate them for downstream assays," commented Kristie Barth (Evelo Biosciences, MA, USA).
"Not only has the Cellaca™ MX saved us time and increased our efficiency, but it also has improved our sample quality.  Cells no longer sit on ice waiting to be counted, making the data output for our proteomic, genomic, and flow cytometry applications more accurate," Barth added.
The equipment uses four excitation light sources, with five emission wavelengths for detection. It comes in an SBS plate format and is automation-ready to allow for robotic integration. Cell Viability analysis can be performed using trypan blue or other fluorescent dyes.
Nexcelom CTO, Jean Qiu commented that the company is focused on helping to accelerate other technological advancements by enabling high-accuracy, high-speed cell counting; a critical factor in the generation of accurate data is the knowledge of the quality and number of cells per experiment. They also hope to see the use of Cellaca™ MX benefiting the field of cell therapy.
Written By Jenny Straiton
Updated 13 May, 2019
Related Tags