Meet Siren reticulata (reticulated Siren): a previously undescribed, 2 ft-long spotted salamander that breathes through "Christmas tree-like" appendages.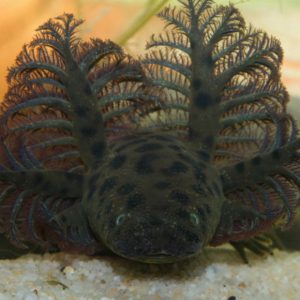 Siren reticulata
 Credit: Pierson Hill
A recent paper produced by a collaboration of researchers from Texas and Georgia (USA) has described a new species of salamander, the reticulated siren, which had previously been labeled a leopard eel. At 2ft long the reticulated siren is the largest vertebrate to be discovered in the US in more than a century.
The genus siren had previously been considered to contain only two distinct species; the lesser siren and the greater siren. The first record of the reticulated siren is from 1970 when one specimen was noted as not conforming with the morphology of the other two species. It was not, however, until co-author of the paper, David Steen, captured a sample in 2009 that a concerted effort to capture more samples and describe the species began.
Five years passed before the researchers were able to capture three more samples in 2014. Using these samples and preserved museum specimens, the researchers were able to conduct analysis of the DNA and morphology of the animals. This analysis revealed that the samples were in fact members of a distinct species of siren which they dubbed Siren reticulate – the reticulated siren due to its distinguished markings.
The species can grow to be 60cm long with an elongated body and no hind legs. The creature uses large Christmas tree-shaped fronds to breathe underwater and has distinctive spot-like markings similar to that of a leopard.
As the wetlands that the reticulated siren inhabits are encroached upon by human activity, these findings highlight the importance of ecologists to striving to identify new species and characterize their habitats. "This is a big animal, and it's only being described in 2018. There's probably a lot more species for us to learn about — and we should do it quick, before these things disappear," explained Steen.
Written By Tristan Free
Updated 17 June, 2019
Related Tags