Categories // Cancer research //
Conference report: American Association for Cancer Research Annual Meeting 2019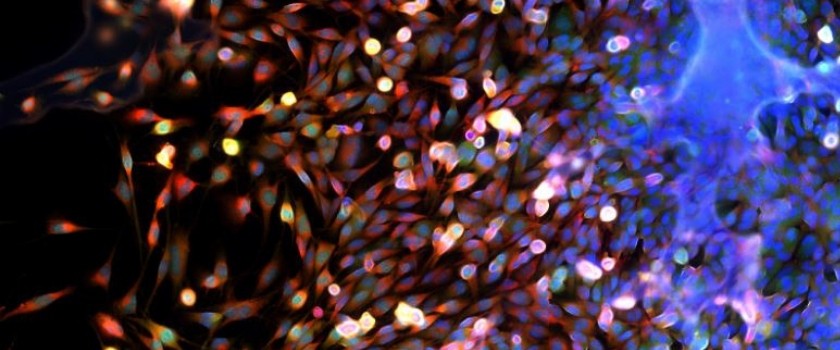 What was popular at AACR 2019? Here, Jordan Villanueva reports on his highlights, including James P. Allison's exciting keynote.
The 2019 Annual Meeting of the American Association for Cancer Research (AACR, March 29- April 3) brought over 25,000 researchers and clinicians to the Georgia World Congress Center in Atlanta (GA, USA). The conference centered around the theme of "Integrative Cancer Science, Global Impact, Individualized Patient Care." The program featured a diverse slate of speakers covering basic, translational and clinical research, ranging from emerging early-career researchers to some of the most established and respected scientists from all over the world. As AACR President Elizabeth M. Jaffee stated in a video released before the conference, "It's a meeting that brings experts from all sectors of the cancer community, from government, academia, pharmaceutical industry, survivorship, patients, patient advocates. It brings everyone together at one meeting. It's a huge meeting."
The meeting began with opening remarks from the CEO of the AACR, Margaret Foti. In her brief introduction, Foti praised the plummeting overall death rate from cancer in the USA, which she claimed has fallen 27% in the past 25 years, though she also stated that the number of new cancers diagnosed in the USA is expected to rise due to lifestyle and environmental factors. She also described how the AACR is expanding support for researchers outside the fields traditionally included in cancer research, including engineering, mathematics and physics, and artificial intelligence.
"It brings everyone together at one meeting. It's a huge meeting."
Following the presentation of annual awards, the opening ceremonies featured a touching video tribute to former AACR President and Inaugural Fellow of the AACR Academy Waun Ki Hong. Hong, a 37-year member of the AACR and author of nearly 700 publications, died on 2 January 2019. Hong is credited with revolutionizing the standard of care for head and neck cancer by demonstrating the effectiveness of combined chemotherapy and radiotherapy, and establishing the concept of chemoprevention in high-risk patients. Hong's legacy is honored by the AACR with the annual AACR Waun Ki Hong Award for Outstanding Achievement in Translational and Clinical Cancer Research, which is given to "a young investigator who has conducted significant translational or clinical cancer research anywhere in the world."
One of the most popular sessions of the week was titled "Making Science Count for Patients: From T-Cell Signaling to CTLA-4 Approval." The first speaker in this session was James P. Allison. Allison, along with Tasuku Honjo, received the 2018 Nobel Prize in Physiology or Medicine for his work with immune checkpoint inhibition as a cancer treatment. In 1996, Allison published a paper in Science in which he administered antibodies to block CTLA-4, resulting in an immune response against pre-established tumors.[1] This study laid the basis for the eventual development of drugs such as ipilimumab (anti-CTLA-4) and pembrolizumab (anti-PD-1). In his lecture, Allison focused on comparing the cellular mechanisms behind CTLA-4 and PD-1 blockade, using unpublished data to argue that CTLA-4 blockade resulted in less tumor recurrence following treatment.
The impact of Allison's foundational research on immune checkpoint blockade was apparent throughout the AACR program, as many speakers focused on immunotherapy strategies derived from Allison's discoveries. Aurelian Marabelle (Institut Gustave Roussy, Villejuif, France), spoke about intratumoral immunotherapy – injecting immune checkpoint inhibitors directly into solid tumors. Marabelle began by describing "PD-Lomas," the class of over 30 cancer types that have shown sensitivity to PD-1 blockade. He argued that immunotherapeutics require a novel treatment strategy, and that delivering the drugs directly to the tumor can generate a "systemic antitumor immune response."[2] Marabelle was followed immediately by Thierry de Baere(Institut Gustave Roussy), who described some of the considerations for intratumoral injections, including imaging limitations, size of puncture, and target depth.
Immune checkpoint blockade was also highlighted during the plenary session titled "Manipulating the Immune System in Cancer Therapy," in which Dung T. Le (Johns Hopkins University, MD, USA), presented on the connection between cancer genetics and immunotherapy response. Le first published in 2015 on the link between microsatellite instability (MSI) and response to PD-1 blockade in colorectal cancer,[3] and in 2017, followed up with a study demonstrating that mismatch repair deficiency predicted the response in many other forms of cancer as well.[4] In her AACR lecture, Le called mismatch repair deficiency a "tissue-agnostic biomarker" and presented unpublished results from her study on MSI and TMB testing in tissue and plasma in patients treated with pembrolizumab, an anti-PD-1 drug. Le closed by presenting future plans, which include MSI and TMB testing in cell-free DNA.
John Carethers (University of Michigan, MI, USA), also discussed mismatch repair deficiency in colorectal cancer in his lecture titled "A Role for Inflammation-Induced DNA Mismatch Repair Defecits in Racial Outcomes from Advanced Colorectal Cancer." Carethers delivered the Jane Cooke Wright Memorial Lectureship, which is presented by AACR Minorities in Cancer Research to a researcher who has furthered the advancement of minority investigators. In his lecture, Carethers demonstrated that the pro-inflammatory cytokine IL-6 sequesters the mismatch repair protein MSH3 from the nucleus, thus disabling a critical piece of the DNA mismatch repair system.[5] This results in a biomarker similar to MSI, which Carethers calls elevated microsatellite alterations at selected tetranucleotide repeats (EMAST). Carethers says that patients with EMAST in their cancer show diminished prognosis and higher rates of metastasis, and that bacterial factors in the microbiome could be one of the primary drivers of this cancer type.[6]
In total, the 2019 AACR Annual Meeting featured five plenary sessions, 56 major symposia and 214 sections of posters. This report provides merely a brief recap of some highly-attended and related sessions. Other major themes of the conference included cellular metabolism, liquid biopsies and pathogen-related cancers, which were all covered extensively in the lectures and poster sessions.
The 2020 AACR Annual Meeting will take place April 24-29, 2020, in San Diego (CA, USA).
Written By Jordan Villanueva - Senior Science Writer at Promega Corporation (WI, USA)
Updated 10 May, 2019
Source [1] Leach DR, Krummel MF, Allison JP. Enhancement of antitumor immunity by CTLA-4 blockade. Science. 271 (5256), 1734-1736 (1996) [2] Marabelle A, Kohrt, H, Caux C et al. Intratumoral immunization: a new paradigm for cancer therapy. Clin. Cancer Res. 20(7) 1747–1756 (2014) [3] Le DT, Uram JN, Wang H et al. PD-1 Blockade in tumors with mismatch-repair deficiency. New Engl. J. Medicine 372, 2509–2520 (2015) [4] Le DT, Durham JN, Smith KN et al. Mismatch repair deficiency predicts response of solid tumors to PD-1 blockade. Science 357(6349) 409–413 (2017) [5] Carethers JM, Koi M, Tseng-Rogenski SS. EMAST is a form of microsatellite instability that is initiated by inflammation and modulates colorectal cancer progression. Genes 6(2) 185–205 (2015) [6] Dejea CM, Fathi P, Craig JM et al. Patients with familial adenomatous polyposis harbor colonic biofilms containing tumorigenic bacteria. Science 359(6375) 592-597 (2018)
Related Tags