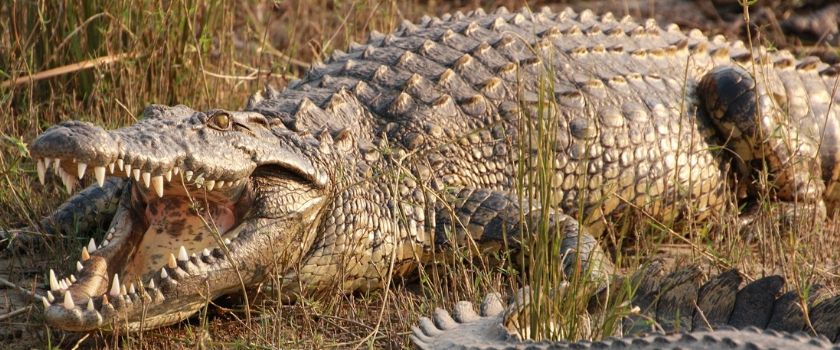 Researchers have demonstrated that crocodile teeth have much thinner enamel layers than humans and other hard-biting species.
It's well known that crocodiles possess one of the most powerful bites in the animal kingdom. However, the actual structure and proportion of dental tissues in crocodiles' teeth is relatively unexplored – until now.
A study published recently in the Journal of Zoology set out to investigate the thickness of the enamel layer on the teeth of crocodiles. Enamel is the hardest structure in the vertebrate body and its thickness is known to vary in relation to diet and the strength of a species' bite as it provides protection to the teeth.
"Crocodiles bite really hard, so we were curious if they have teeth that correspondingly withstand those forces — tough teeth to match a tough bite," commented Kaleb Sellers (University of Missouri—Columbia; MO, USA), lead researcher on the study.
Utilizing micro-computed tomography scanning, the researchers evaluated the thickness of the enamel in the teeth of Alligator mississippienis. They examined teeth from different positions in the tooth row (canines, incisors and molars) and from crocodiles of different ages.
---
---
Regardless of tooth position or age, the team found that crocodiles do not have thick tooth enamel. The enamel of molars was relatively higher than that of incisors, presumably due to the higher bite forces they experience during feeding.
The researchers then went on to compare the data they had collected with existing data on enamel thickness of dinosaurs and mammals. They discovered very similar patterns in the enamel thickness of dinosaur teeth to that seen in crocodiles.
They also found that crocodiles and their relatives have considerably thinner enamel layers than most mammals and other 'hard biters'. This is most likely due to crocodiles being polyphyodonts, meaning they continuously replace their teeth throughout their life. This means that crocodiles do not need their teeth to be as 'tough' as other hard biters since they can replace them once they get worn down.
By uncovering the underlying genetics of crocodile tooth growth, the researchers believe that the findings from this study could be used to aid development of novel dental treatments in humans.
"Once we unlock genetically how crocodiles and other non-mammals do this, maybe new teeth can be bioengineered for people," explained co-author Brianne Schmiegelow, a dental student at University of Missouri—Kansas City (MO, USA). "Instead of using fillers such as crowns, people could instead 'grow' new teeth when they need to replace their worn out chompers."
Written By Katie Gordon
Updated 16 September, 2019